How can we help you?
Can I post to more than one Linkedin account?
Yes, absolutely. In fact, we highly encourage you to post to all your Linkedin pages – company and personal – to maximize the reach your content will be seen by new audiences.
When you authorize OneAffiniti to post content to your pages, you will see all the pages that you are an admin to and can select both company and personal pages. 
You can also invite your colleagues to do the same on their personal LinkedIn page by entering their email in the "Add colleagues section" on the authorization page. Within 5 minutes the invited employee(s) will receive an email from the contact, asking them to connect their LinkedIn account.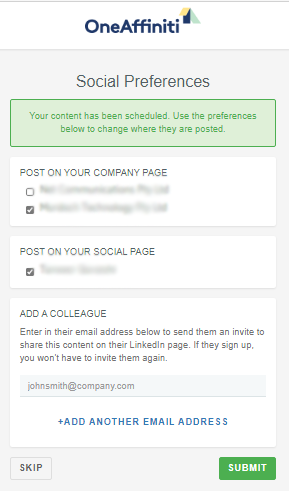 Learn more about LinkedIn scheduling here.
Last updated December 2021